Newsletter of The Cannery Row Foundation since 1984

Celebrating 32 years of service to Cannery Row


Most recent update: March 1, 2016
by Michael K. Hemp • mkhemp@thehistorycompany.com
Web design, operation, and migrated content donated by The History Company.




New Members of the Board of Directors of the
Cannery Row Foundation elected

Election of two new Board Members was concluded on February 24, 2016.
New Board Members are David Barker and Randy Hamilton.

David Barker bio:

David Barker has been a Monterey Country resident since 2008. Born on the far side of the Pacific in Australia, with a Scientist father, he spent a happy childhood frolicking in the costal waters of his hometown of Melbourne. His fathers' quest for more computer power led first to Eastern Canada, and then finally to Silicon Valley in time for the 1969 moon landings. Infused with a passion for Science, David's path to residence on the Monterey Peninsula coursed through high school in Silicon Valley, college at Cal, and a long and still continuing career in High Performance Computing. He career has caused him to brave the cold snows of Minnesota, the thin air of Colorado, the Pubs of Oxford, a year of Parisian cafes, and several years in the Italian part of Switzerland.
David has been the self-employed head of his own software company since 1995. He's enjoying staying in one place for a while. He resides in Pebble Beach.
Interestingly, he heard of both John Steinbeck and Seymour Cray on the same day in 1978 from a former colleague at his first job after college. His career was significantly influenced by 12 years of work for companies associated with Mr. Cray. Several years spent living in Salinas cemented the Steinbeck relationship.
David began his relationship with CRF as a result of a casual conversation with Michael Hemp during "Christmas in the Adobes" of 2013. He now volunteers as a City of Monterey docent, as well as working with the CRF in it's PBL tours and Cannery Row Symposium . He feels his life has come full circle, seeing parallels between his daily forays into the waters of Australia as a child, and Ed Ricketts' history of invertebrate collection. He continues to work in High Performance Computing, providing support and advice to NASA/Ames Research Center, and other clients.
Randy Hamilton Bio:
Randy first came to the Monterey Peninsula to work as a Research Assistant for the California Department of Fish and Game, where he studied abalone aquaculture for his thesis. He graduated from Humboldt State University with a Master's of Science degree in Marine Biology.
Randy joined the Monterey Bay Aquarium in 1982 as a member of the original "start-up" team that built the aquarium. Originally working as a fabricator, Randy built fiberglass exhibits, rockwork and marine mammal models for the exhibit halls. October 20, 1984 was the Aquarium's Grand Opening Day. The "after party" was held at "Docs Lab," then a private men's club and off limits to aspiring biologists.
Since 2002, Randy has been Vice President of Husbandry, directing the Husbandry, Veterinary, Dive and Collecting Departments, as well as the Aquarium's animal Research and Development projects. The Husbandry Department is responsible for the welfare of over 70,000 species. Randy's focus is to make sure the millions of guests who visit the aquarium each year receive an amazing visitor experience while providing outstanding environments for all exhibit life.
Through his marine biology studies, reading Ed Ricketts "Between Pacific Tides," wandering down Cannery Row and exploring the local tide pools, Randy developed a deep interest in the historical studies of Cannery Row and Ed "Doc" Ricketts. In 2015, he became a docent for the City of Monterey as a volunteer guide for Doc Ricketts Lab Tours.
Randy's other interests include world travel and sailing his Westsail 32.
We welcome their expertise and dedication to the mission and goals of the Cannery Row Foundation.

* * *
Planning is underway for the next CANNERY ROW SYMPOSIUM
Following on the tremendous success of the
February 21st, 2015 SYMPOSIUM, which
in addition to its rock star academic cast—from Drexel Univsersity's Prof. Richard Astro in another
West Coast appearance for the Cannery Row Foundation, to our own Prof. Susan Shillinglaw,
San Jose State University Professor of English, former Director of its Martha Heasley Cox Center For
Steinbeck Studies, and currently Interim Director of the National Steinbeck Center, Salinas—then add
the first news in an
Official Announcement
by its new owners, the Steinbeck-Ricketts world learned of
the successful rescue of the endangered
Western Flyer
and its future role as a restored sea-going
classroom for inspiring kids into the marine sciences.
Be ready for more great cutting edge research and educational breakthroughs are ahead, from another
rock star academic program with more big surprises you'll only find at April's Cannery Row Foundation
CANNERY ROW SYMPOSIUM. If you are not receiving our CRF ConstantContact e-mail alerts,
make sure we have your current e-mail address for that pending announcement! Send your e-mail to:
symposium@canneryrow.org
* * *


The Western Flyer at the 2015 Port Townsend Wooden Boat Festival
September 11th through 13th, 2015, the Wooden Boat Festival was held again—the
largest wooden boat festival in the world, at Port Townsend, Washington—where
the Western Flyer is under restoration at the Port Townsend Shipwrights Coop.

The History Company consultant (and Cannery Row Foundation President) Michael Hemp
attended the three day wooden craft extravaganza and made PowerPoint presentations
at the public Pope Center Building of the Pacific Northwest Maritime Center informing
the curious crowds of event attendees of the unknown historic connections between
Cannery Row's Ed Ricketts to Port Townsend as a frequent scientific visitor in the late
1920s and early 1930s—and the role of the Western Flyer in Ed Ricketts' marine biological
and scientific legacy and that of Nobel prize winning writer, John Steinbeck.


(Photos will follow soon)



* * *
The Western Flyer has been saved!
The Western Flyer has a new owner and soon begins a complete restoration to its 1937
condition (including some modern modifications such as hybrid-diesel propulsion and an undersea
ROV) in a return to the Central Coast to operate as an educational classroom on Monterey Bay.

The
Official Announcement

of news was a surprise feature at the Cannery Row Foundation
CANNERY ROW SYMPOSIUM at Hopkins Marine Station of Stanford University
on Saturday, February 21st, 2015, in a production by
The History Company

in association
with the
Cannery Row Foundation
.



More soon

. Additional background on www.thehistorycompany.com.



* * *
Thanks and congratulations go out to our CRF "Adobe Rat" Volunteers for their
splendid help in making this year's hosting of the "Steinbeck Adobe" a huge success.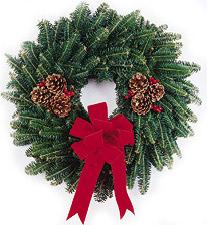 Special thanks to
Chairman David Barker
for his leadership in
the Cannery Row Foundation's 2014 hosting of the"Steinbeck Adobe"
in Monterey's annual "Christmas In The Adobes" tours. Our thanks
also extend to
CRF "Adobe Rat"

Scott Johnson
, City of Monterey docent,
for his support, participation, and
Steinbeck readings
—a new feature this year.
| | |
| --- | --- |
| Johnson & Barker in-character for 1944 (not 1844) | Barker with CRF volunteer, Tracy Campbell |
| Barker with enigmatic "Mexican Mona Lisa" | Scott Johnson with "Mona Lisa" |
| CRF Docent Dr. Frank Douglas | Scott Johnson reading Steinbeck |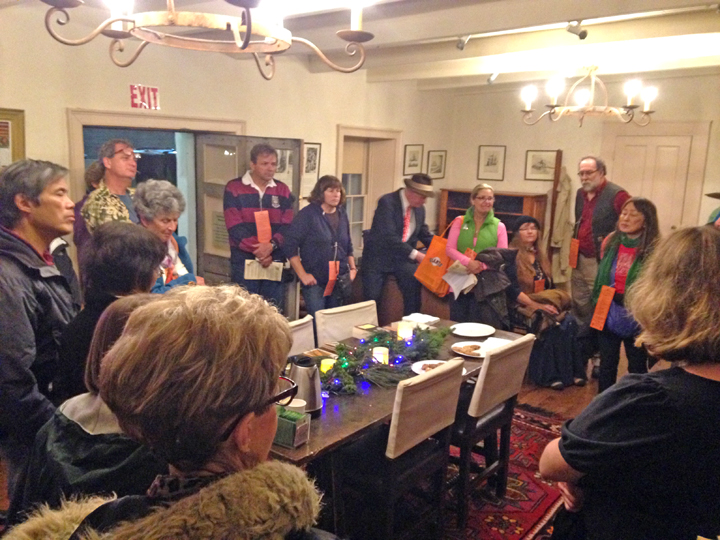 Part of the hundreds of visitors to the Steinbeck-Lara-Soto Adobe this season

And thanks to all our CRF docents ("Adobe Rats")
Michael Guardino, Tracy Campbell, Dr. Frank Douglas, Andrea Satterfield
David Barker, Scott Johnson, Michael Hemp.
Let us know if you'd like to assist us at the Steinbeck Adobe next year.

— This feature migrated from and donated by The history Company

* * *

(November, 2014)

The CRF is pleased to announce that our outstanding PBL art history docent, Mr. David Barker,
is coordinating the Foundation's annual presentation of the "Steinbeck Adobe" —
that John owned in late 1944 til early 1945 where he wrote "The Pearl" (now the restored and working
Admissions Office of Monterey Institute of International Studies (MIIS) — for this year's

30th anniversary
California State Parks Association CHRISTMAS IN THE ADOBES tours.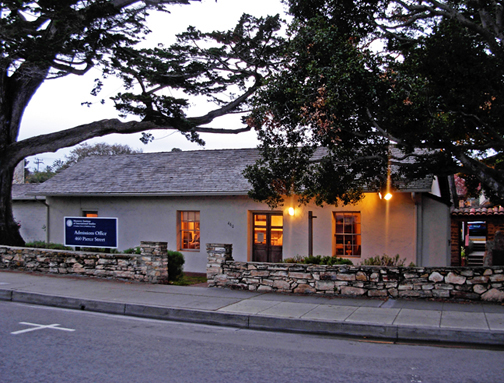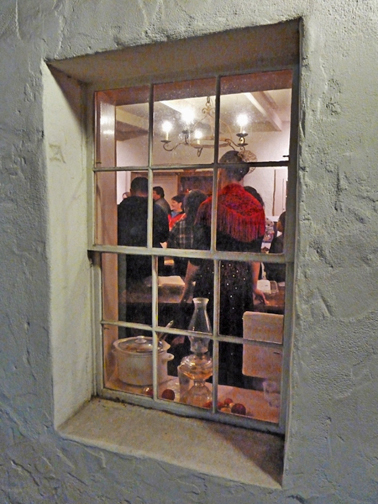 The Steinbeck-Lara-Soto Adobe is located at 460 Pierce Street

Hoopteedoodle:

Our Adobe event chairman, David Barker, is also the art expert on the complex and iconic
"Sophia Room" collage (
by John Boit Morse)
which resides prominently in the
bathroom of Pacific Biologial Laboratories. Meet this man!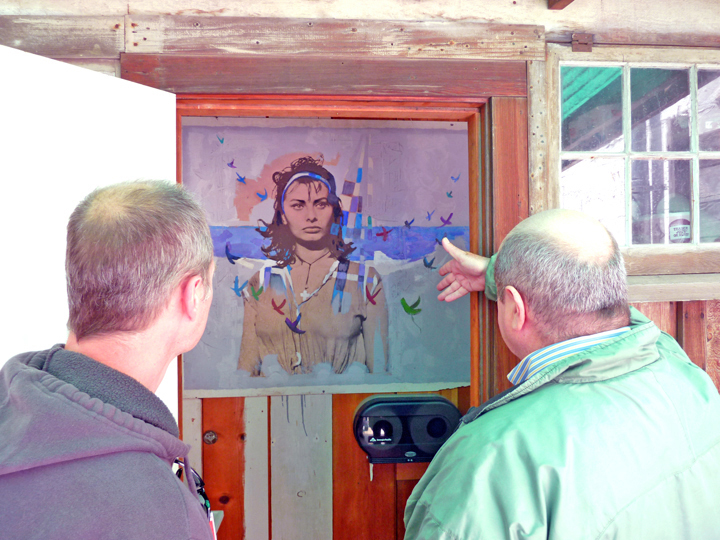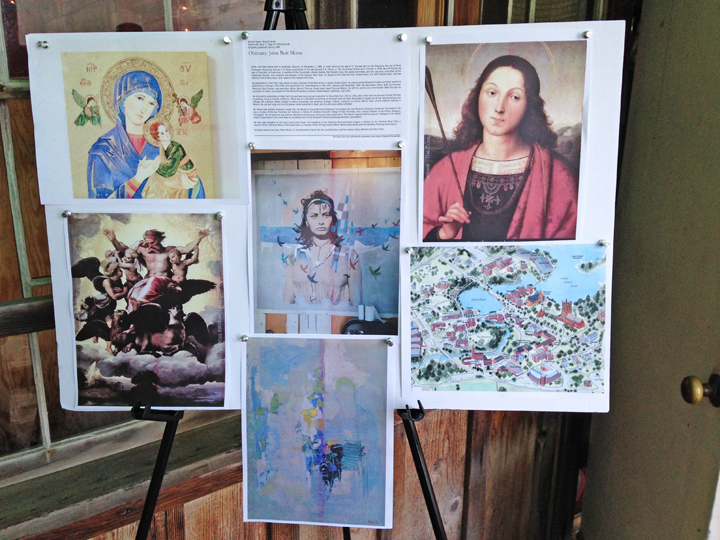 Lab lore you only get from the Cannery Row Foundation...



* * *
The last scheduled Pacific Biological Laboratory (Ed Ricketts' Lab) tours of 2014 were held
on Saturday, October 11th—celebrating the birthday of Harlan Watkins (October 14th, 1914),
Monterey High School teacher responsible for forming his friends into a private
men's club that preserved the Lab until the club sold it to the City of Monterey
in 1993 for restoration
and preservation in perpetuity as a world famous historic, literary, and ecological structure.



* * *


For current information on the condition and fate of the Western Flyer—the newsletter namesake
of the Cannery Row Foundation since 1983, go to TheHistoryCompany.com for up-to-date info and images.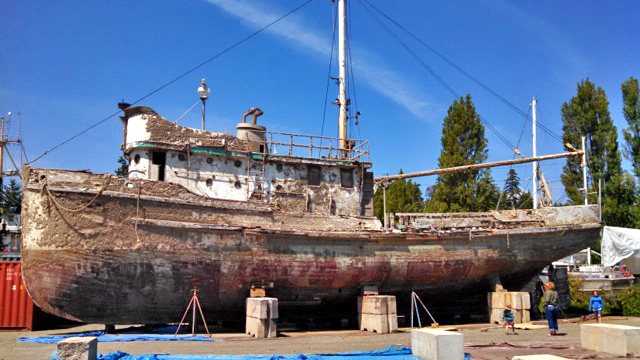 Western Flyer at Port Townsend, Wasington, on May 31, 2014 Chris Chuhran photo
(Migrated from TheHistoryCompany.com)



* * *


CRF Board Member Prof. Susan Shillinglaw's two most recent works:


Saturday, May 12th, the CRF again holds Pacific Biological laboratories (Doc's Lab) open for hourly public tours from 9 AM until the last tour starting at 5 PM. Reservations can be made by e-mail after April 15th at tours@canneryrow.org. If we have your e-mail address in our CRF e-mail data base, we will also remind/notify you when reservations are open for this next Doc's Lab tour date.
MARK YOUR CALENDAR: The next Doc's Lab tour date after May 12th will be on Saturday, October 13th, 2012—in honor of Harlan Watkins and the Pacific Biological Laboratory,

Inc.

(the "private men's club" that has owned the Lab since it purchased it from Harlan in May, 1958).


John Steinbeck Cannery Row Birthday Tours of Ed Ricketts' Lab on Saturday, February 25th, 2012, were the most successful yet. Sold out! Charter Board member and Treasurer of the CRF (1983), Frank Wright—now a robust 93!—related his times in the Lab visiting Corporal Ed Ricketts of the Presidio of Monterey (1942-1944). Frank's stories are famous for their wit and value as a living connection with the Ed Ricketts legacy of the Old Row. He is also one of four enduring members of the private men's club that owned and maintained the Lab from 1958 until its sale to the City of Monterey in 1993.

Volunteers are always welcome to join in the honor of sharing the Lab with enlightened folks who seek to be in it. Become one of our Lab greeters, most of whom are delightful ladies usually dressed a la 1930s and 1940s, or guides and helpers with the staging of the hourly tours and assisting guests through their tours of the most exclusive club on the Coast. Let us know if you'd like to become a "Row Rat"—the honorific CRF designation of our incredible Lab and project volunteers.



* * *
Introducing Cannery Row Foundation fans of John Steinbeck to a book to know about:
One of the Cannery Row Foundation's new Board Members is nationally recognized Steinbeck scholar,
Professor Susan Shillinglaw of San Jose State University, Professor of English and former 18 year Executive Director
of the Martha Heasely Cox Steinbeck Studies Center at SJSU. We think you should be aware—if not already—of
her recent book: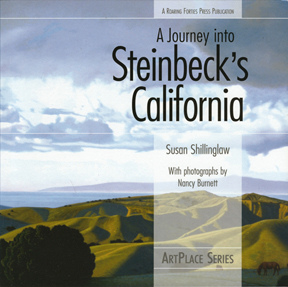 This, too, should be on your Cannery Row John Steinbeck book shelf.
* * *
PRESS RELEASE ON CRF BOARD ELECTIONS AND NEW BOARD MEMBERS


MONTEREY—September 21, 2010


WHO: The non-profit Cannery Row Foundation, established in 1983, recently held 2010-2011 Board of Directors elections and added three new board members. Added to the Board are: San Jose State University's national Steinbeck authority, Prof. Susan Shillinglaw; Monterey attorney and long-time Cannery Row businessman with offices on Cannery Row, Mr. Gary Varga; and Mr. Jim Levitt, Bay Area radio station owner and businessman, and active board supporter of the San Jose State University Martha Heasley Cox Steinbeck Studies Center.
They join Cannery Row Foundation Board Members, David Armanasco, Ted Balestreri, James Bridges (Los Angeles), Pat Hathaway, Michael Hemp, A.L. Scrap Lundy (Santa Barbara), Thor Rasmussen, Lou Rudolph (Charter Board Member 1983), Art Ring (Campbell), and Mike Zimmerman.

WHAT: Re-elected as President of the Board of Directors is Cannery Row historian Michael Hemp; re-elected as Vice-President is historian A.L. Scrap Lundy from Santa Barbara; and serving again as Secretary-Treasurer is Michael Zimmerman of the Cannery Row Company.

WHEN: The Board met September 17th 2010.

WHERE: The Board Meeting was hosted at the Cannery Row Company offices, 555 Abrego Street in Monterey.

WHY: The Board is now embarking on an ambitious educational agenda of Cannery Row historic, cultural, and conservation projects which include the continuation of the Foundation's historic memorials (Ed Ricketts, Cannery Divers) and soon the "Queen of Cannery Row" bronze memorial for Kalisa Moore; participation in the educational and historic support for the return of the Western Flyer project; and helping the City of Monterey with the funding of preservation and maintenance of Pacific Biological Laboratories—Ed Ricketts' Lab.

WEBSITE: www.CanneryRow.org includes the on-line Cannery Row Foundation Newsletter, the "Western Flyer."


Contact: For additional information call Michael K. Hemp at (831) 659-2112 or e-mail at: mkhemp@thehistorycompany.com







* * *




Three new CRF Board Members are seated at today's CRF Board Meeting:


Dr. Susan Shillinglaw

(San Jose State Univeristy/Steinbeck Studies Center)


Mr. Jim Levitt

(Martha Heasly Cox Steinbeck Studies Center Advisory Board Member)


Mr. Gary Varga

, Attorney with offices on Cannery Row

Michael Hemp was re-elected as President of the Board
A. L. Scrap Lundy was re-lected as Vice President and
Michael Zimmerman was re-elected as Secretary-Treasurer
(Click here for the complete Board Member list for 2010-2011)




* * *





Cannery Row Foundation at the Carmel Art Association
"Block Party For the Arts"
10-3 on Saturday, August 21st, Camel-By-The-Sea.
(Dolores Street was closed for the party!)


We spread the word about the Cannery Row Foundation's




historical, art and cultural projects; signed up new members;


and connected with other Montrerey Peninsula non-profit organizations

* * *



Ed Ricketts Cannery Row Birthday
Pacific Biological Lab Tours
May 15th, 2010.
(Sold-out tours)




* * *




Saturday, February 27th, 2010

The Annual CRF
Cannery Row John Steinbeck Birthday
Pacific Biological Laboratories
"Doc's Lab" Public Tours
800 Cannery Row, Monterey

Another great day in the Lab with guests from as far away as Sacramento!


Special Thanks to the City of Monterey Satff and Commissioners that


assisted the CRF in escorting guests through areas of termite damage to
the stucture that will require pending tenting and fumigation.




* * *





A Celebration of life

for Kalisa Moore, "The Queen of Cannery Row,"
is scheduled for Wednesday evening, November 18th
at the Monterey Bay Aquarium. The public is envited.

Please check back frequently for information and details
of this pubic tribute to her incredible life.

Scroll down through this newsletter to she how often and
decisively she contributed to the Cannery Row legacy.




* * *





Kalsia Moore, "The Queen of Cannery Row" is dead at 83.




Dear Cannery Row Foundation Board Members and all our Friends of Cannery Row,

Kalisa Moore, our beloved "Queen of Cannery Row," is dead at 83 years old. She died after open-heart surgery at Stanford Medical Center, Palo Alto, at 4:10 PM, Wednesday, October 14th, 2009.
Check back for links to media coverage and stories about the life of this incredible woman. Her family has not announced plans for services at this time.
Cannery Row will never be the same. But lucky are those of us who knew her.


For "America's Most Famous Street,"

Michael Hemp, President
Cannery Row Foundation
* * *
The Cannery Row Foundation presented


Ed Ricketts Cannery Row Birthday Tours of "Doc's" Lab



Saturday, May 16, 2009

at 800 Cannery Row.



The next scheduled CRF tour of Ed Ricketts' Pacific Biological Laboratories




is on John Steinbeck's Birthday, February 27th, 2010.




* * *

AND THE NIGHT BEFORE!

WAVE STREET STUDIOS livenetworks.tv broadcast the
2009 Annual Cannery Row Ed Ricketts Birthday Party
from Wave Street Studios, 774 Wave Street
and from the Rec Trail at the Quock Mui Tea Room and Gift Shop


Featuring musician, songwriter and country western musician Larry Hossford




and his classic Cannery Row repertoir.


http://livenetworks.tv/


* * *

This year's celebration of the Cannery Row Foundation's
John Steinbeck Cannery Row Birthday Tours of "Doc's" Lab
will be held on:

Saturday, March 7th, 2009
800 Cannery Row
Hourly Tours from 10:00 AM • Last tour begins at 4:00 PM • $15.00 per person donation
Bring your camera! More details as Steinbeck's Birthday nears or see

VIA Magazine

, March-April 2009.


* * *

On October 17, 2008, Cannery Row Foundation Board Member and historian, A. L. "Scrap" Lundy,
premiered his
groundbreaking research on the real people and real places used by John Steinbeck
in his
world-famous 1945 novel, "Cannery Row." After a Cannery Row Foundation Board Meeting
in Pacific Biological Laboratories ("Doc's" Lab), Scrap premiered his acclaimed new book,
"Real Life on Cannery Row, Real People, Places and Events That Inspired John Steinbeck."
Published by Angel city Press, Santa Monica, Scrap gives voluminous praise and thanks to
Gail and Thom Steinbeck for their efforts and support of its publication. Thom Steinbeck
wrote the Foreward and Cannery Row historian, Michael Hemp, wrote the Introduction.
This long awaited, thoroughly detailed research of Steinbeck's use of people and places in
"Cannery Row" authoritatively identifies the real—and debunks the myths and misunderstandings,
the misidentifications and the misinformation rampant for so long about what was real and fictional
of Steinbeck's work. The Steinbeck Studies Center at San Jose State University calls it an indispensable
companion to Steinbeck's "Cannery Row."

The book is available from
your local bookstore,
Angel City Press, or Amazon.com.

* * *
On April 18th, the Cannery Row Foundation unveiled its historic Cannery Divers Memorial
located on the site of the E.B. Gross/Peninsula Packing Company at San Carlos Beach Park
in Monterey.
Click here
for details and great photos of the completed bronze casting by our renowned
sculptor and portrait artist, Jesse Corsaut. Jesse also created the Ed Ricketts Memorial Bronze.
Donations are still needed to complete the project site. All donations are tax deductible;
donations
of $500.00 or more earn the donor's name, business or a memorial name on the perpetual
bronze donor's plaque to be installed on the memorial upon completion of fundraising.

* * *
The bronze casting of the helmet for the Cannery Divers memorial is finished.
Click here for first photos of the burnished casting at the Monterey Sculpture Center.
* * *
The Cannery Row Foundation again celebrated John Steinbeck's Birthday week,
Saturday,
with public tours of Pacific Biological Laboratories ("Doc's Lab").
Long-time CRF volunteers Herb and Robbie Behrens—both Steinbeck and Ricketts
scholars and definitive authorities on Ed's Ricketts' Lab history, provided
accounts of its origins, Ed Ricketts and John Steinbeck's period in it. Historian
Michael Hemp assisted in providing canning era and contemporary
history as the mid-fifites home of teacher Monterey High School teacher
Harlan Watkins. Watkin's friends friends became the "Lab Group"
—a private men's club that stewarded the use and preservation of "Doc's Lab."
Their

clubhouse i

s where the Monterey Jazz Festival was born;
the Lab Group was the Monterey Jazz Festivals' first board of governors.

It was another day-long stream of Steinbeck, Ricketts, and Cannery Row
history fans that, as always, reveled and reveared their time inside and out behind
Ed Ricketts historic home and marine biological laboratory.


NEXT UP IS THE STEINBECK BIRTHDAY PARTY

Wednesday, February 27th
Kalisa's Annual Cannery Row John Steinbeck Birthday Party (since 1970)
American Legion Hall, 1120 Veteran's Drive, Monterey, in "Tortilla Flats"
(intersection of Jefferson and Johnson Streets above City Hall)
From 6:00 PM...

Multi-media musical entertainment by Cannery Row's historic troubadour, David
Baumgarten; Literary and nostalgic tales of Cannery Row; Belly Dancing and Flamenco;
Beverages and birthday cake; and the John Steinbeck Soup Kettle.

$15.00 per person admission, (benefits the Cannery Row Foundation). See you there!

Click here for a Google Map
* * *

CRF 2008 Board announcement in the
Monterey County Herald

* * *


Project News Updates:

The Bill Johnk historic Cannery Row model (1943-1946) exhibit will open at
the Maritime Museum of Monterey before John Steinbeck's Birthday
on February 27th, 2008. Date and time will be announced here in The Western Flyer.

The historic Cannery Divers Memorial has received all the necessary approvals from
the City of Monterey. The mold for the historic diver's helmet is at the Monterey Foundry
and will be cast, finished and the Memorial dedicated in mid-April. Check back for
specific date and times of the public dedication and unveiling ceremonies.


* * *

CANNERY ROW FOUNDATION BOARD MEETING 2008
January 18, 2008 at the Monterey Bay Inn, Cannery Row

Highlights of the First CRF Board Meeting in our 25th Anniversary Year:
The Officers of the CRF Board elected are,

• Canney Row historian, Michael Hemp, to President
• Abalone and Hard-Hat Diving Historian, Scrap Lundy, to Vice-President
• Our stalwart Treasurer, Mike Zimmerman to Secretary-Treasurer
• Kalisa Moore, "The Queen of Cannery Row" to Past President
• with Charter Board Member (1983), Lou Rudolph returning to the Board!



2008 Projects
Cannery Divers Memorial
, Scrap Lundy and Sylvia Fraley, Co-Chairs
The Bill Johnk Historic
Cannery Row Model
(1943-1946) on loan
to the CRF for exhibit at the Maritime Museum of Monterey
and other possible Monterey venues for up to two years.
Its creator, Board Member, Bill Johnk, presented the project in detail.
The CRF has selected the Monterey Maritime Museum as the site
for this incredible exhibit and welcomes their association with the
Cannery Row Foundation in this spectacular public exhibition.
Stay tuned for more details...
We're going to be
MAKING
history.
CRF Board Director of Education, Art Ring; (then) Vice-President, Michael Hemp;
and Ed. Ricketts, Jr.—at the Oakland Museum of California on
January 10th, to view and arrange the exhibit loan to the CRF.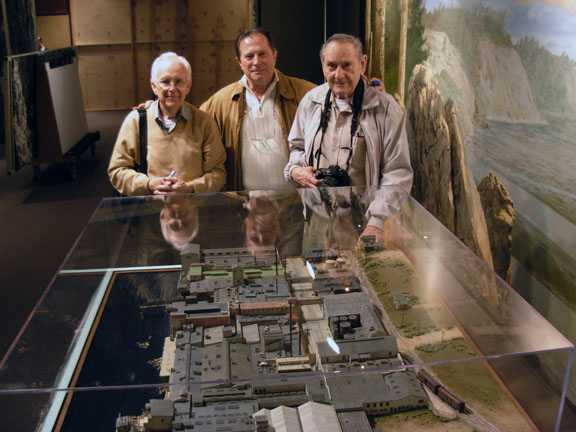 ***




CANNERY ROW FOUNDATION BOARD MEETING 2007



The Cannery Row Foundation Board of Directors met on Friday, June 22nd,
at the Monterey Bay Inn, 32 Cannery Row (site of the Enterprise Packing Company).
The Foundation wishes to thank the management of the Monterey Bay Inn
for another outstanding meeting location to conduct the Foundation's business.
(The next quarterly Board Meeting will convene in August, 2007)

The meeting dealt with normal operating business but spent it focus on
the Cannery Row Foundation's newest historic project for Cannery Row:
a tribute to the bravery of the hard-hat Cannery Divers upon which the very
operation of the canning industry depended. Click here for a brief summary of
the crucial role of the Cannery Divers in Monterey canning industry.



* * *





KALISA MOORE, "THE QUEEN OF CANNERY ROW"




CLOSES HER FAMOUS "LA IDA CAFE" OF JOHN STIENBECK'S




CANNERY ROW FAME, CELEBRATING NEARLY FIFTY YEARS




OF SERVICE TO THE LITERARY AND HISTORIC COMMUNITIES




OF "AMERICA'S MOST FAMOUS STREET."



As reported in The Monterey County Herald
Tuesday, February 27, 2007 (John Steinbeck's birthday)


* * *

PHOTOS SOON OF BILL JOHNK'S
"STEINBECK CORE OF CANNER ROW"
HISTORIC SCALE MODEL FOR THE
MUSEUM OF CALIFORNIA IN OAKLAND.

THE HOVDEN CANNERY TO THE LONE STAR CAFE
COMING SOON.

SCROLL DOWN THE WESTERN FLYER FOR PICTURES OF
THE HOVDEN PORTION IN PROGRESS, EXHIBITED AT THE
GREAT CANERY ROW REUNION 2005. SPONSORED BY
CANNERY ROW BUSINESSMAN, MR. ROD RIGGS.
(His Wax Museum Book—a history of Monterey and Cannery Row)

* * *


"CHRISTMAS IN THE ADOBES"

On December the evenings of December 8th and 9th, from 6-9 PM, the
Cannery Row Foundation will again hold open the historic Lara-Soto Adobe,
the late 1944 home of John Seinbeck, in which he completed

Cannery Row


and began writing The Pearl.

Holiday traditions and Monterey history merge in "Christmas in the Adobes"
to be presented by California State Parks in association with the
Old Monterey Preservation Society on Friday, Dec. 8 and Saturday Dec. 9 from 5 - 9 p.m.
Hosts and Hostesses dressed in period costume will welcome visitors to nearly twenty participating
adobes clustered in a five-block area. All are within walking distance for the self-guided tour
Monterey's historic buildings lit by luminaria, candle-light and enhanced with period Christmas
decorations, musical entertainment and refreshments.

Free parking is available at selected locations with your ticket purchase.


Tickets may be purchased in advance at Cooper Museum Store




on the corner of Polk and Munras Streets 831.649.7111.




For more information about "Christmas in the Adobes,"




please call California State Parks at 831.647.6226 or 831.649.7118.




Information and tickets can be obltained from the Monterey History and Art Association
at: http://www.monterey.org/events/holidayevents.html#adobesxmas




HOVDEN CANNING FILM ON THE
MONTEREY BAY AQUARIUM SITE
Click here to see canning lines on Old Cannery Row.


Steinbeck's Birthday Lab Tours were held on Saturday, February 25th.
Hourly Lab tours started at 10:00 am with the last tour at 4:00 pm.
There was a tremendous public response to the tours, with all but one at
full capacity. The next tours of the Lab will be held on Saturday, May 13th,
to celebrate Ed Ricketts' Birthday on May 14th. CHECK BACK for
more details on
The Western Flyer.
***
PHOTO SUMMARY OF THE CANNERY ROW REUNION 2005. CLICK HERE.
An international affair with some astounding revelations. That's how the
events and exhibits at the Great Cannery Row reunion can be described.

The all-day program began with the return of Prof. Richard Astro, Drexel University,
Philadelphia. It was Dr. Astro's keynote speech in 1983 that opened the very first
Great Cannery Row Reunion where the Cannery Row Foundation began its life
as the research, education and preservation organization for Monterey's historic
Cannery Row.


***
Legendary Monterey musician, businessman and community leader,
Mike Marotta
—who played at the first Great Cannery Row Reunion in
May 1983—returns for a special appearance with his trio to make the
Reunion complete with the "Music of Monterey and Cannery Row."
His group played the early Cannery Row Reunions from 1983 though 1987
at the Monterey Conference Center, the Outrigger on Cannery Row
and the Monterey Bay Aquarium. Join us in a tribute to Mike Marotta!
***

montereybay.com has become an event co-sponsor of
The Great Cannery Row Reunion 2005.

***

The Spirit of Monterey
Wax Museum

, 700 Cannery Row, has become a




Co-sponsor of the Bill Johnk historic Hovden cannery exhibit at the




Reunion. Their sponsorship donation has made it possible to confirm




the presentation of this unbelievable re-creation of the mid-1940s cannery




of the "King of Cannery Row"—Norwegian, Knut Hovden. The entire




board and volunteer staff of the Cannery Row Foundation wishes to




express our sincerest thanks to Mr. Rod Riggs for making it possible




for this crucial centerpiece of this Reunion to make its only Monterey




appearance before its delivery and permanent exposition at




the Museum of California in Oakland later this year.




The Spirit of Monterey Wax Museum presents the saga of Monterey
from its Rumsien and Eselen Native Americans to Monterey's (brief)
claim as "Sardine Capital of the World" and the real-life fictional characters
of John Seinbeck's 1945 novel, "Cannery Row."

The Spirit of Monterey Wax Museum
700 Cannery Row, Monterey, CA 93940 • (831) 375-3770




***





King Oscar brand Norwegian Sardines

will be at the Reunion!
President of King Oscar USA, Mr. Robert Montano, will lead his company's
participatonin the celebration by provding a Norwgian sardine tasting for
those attending the event.

King Oscar brand Norwegian Sardines

will also
be providing free tea-towels (also suitable as golf towels, we're told) as well.


The Sons (and Daughters) of Norway

will be assisting in serving the tasting
of Norway's Atlantic cousins of our own Monterey sardines.

***
The "Sons of Norway" met
at the May residence in Carmel-By-The-Sea
last Saturday—with CRF board members Michael Hemp and Thor Rasmussen
invited to make a presentation on the Reunion. The group has decided to
become one of the volunteer organizations who will be assisting the
production of the Great Cannery Row Reunion 2005.
Our warmest thanks to all of the members of this regional Norwegian
club for their interest and support. Many will wear traditional Norwegian
attire while assisting the Foundation with registration and hospitality.
***
Special Hotel rates can be found at our "Reunion Hotel Rates" page.


***

A list of activities and presentations at the
Great Cannery Row Reunion 2005


will be posted very soon on a separate section of this site,




with links from
our Home Page and "The Western Flyer."

Events
Presenters
Special Hotel and Inn rates
Press Releases
Featured Topics
Directions and Information

***


The Maritime Museum of Monterey joings the
Cannery Row Foundation in celebration of the
"GREAT CANNERY ROW REUNION" 2005
with free admission to all attendees of the Reunion
on October 8th and 9th.

Maritime Museum historian, Tim Thomas, will join the
Reunion agenda with a presentation of


"I Wanted to be a Baseball Player: Frank Manaka


and the Japanese Fishermen of Monterey Bay"

***



Dr. Richard Astro to be the Keynote Speaker
(Prof. Astro was the keynote speaker at the first
GREAT CANNERY ROW REUNION in May 1983;
ceremonies were opened by Congressman Leon Panetta)

***


More confirmations are coming in from international
fishing and canning museums planning attendance.

***

THE GREAT CANNERY ROW REUNION OF 2005
SATURDAY, OCTOBER 8TH, 2005
AT THE MONTEREY CONFERENCE CENTER
STEINBECK FORUM AND CONCOURSE (3RD FLOOR)
The Reunion Agenda includes:
Steinbeck Scholar (and CRF Board Member) Art Ring
on "Steinbeck at Stanford with Duke Scheffield"
Historian Robert Enea (Sparky Enea's Nephew and grandson of
Monterey fishing pioneer, Orozio Enea)
on "The Moon Is Down on the Sea of Cortez"
A delegaton from Stavanger, Norway—the actual
"Sardine Capital of the World" and their National Fisheries Museums
Bill Johnk's historic scale model trilogy: the Lab, the Wing Chong
and the nearly completed Hovden of the mid-1940s. [see below]
(confirmation pending)
John Steinbeck bronze bust by sculptor Jesse Corsaut
on exhibit in the Monterey Conference Center
Cannery Row 1957-1958 Photo Exhibit
from the Robert Lewis Collection
The Cannery Row Wall of Fame Registry
with names of old Cannery Row's workers and residents
(make sure your relatives are on it!)
Cannery Worker Round-table discussions of life and work
on the Old Row—with public question and answer periods
"Cannery Row Bookstore"
Books • Memorabilia • Labels • Photos
And Much More To Be Announced!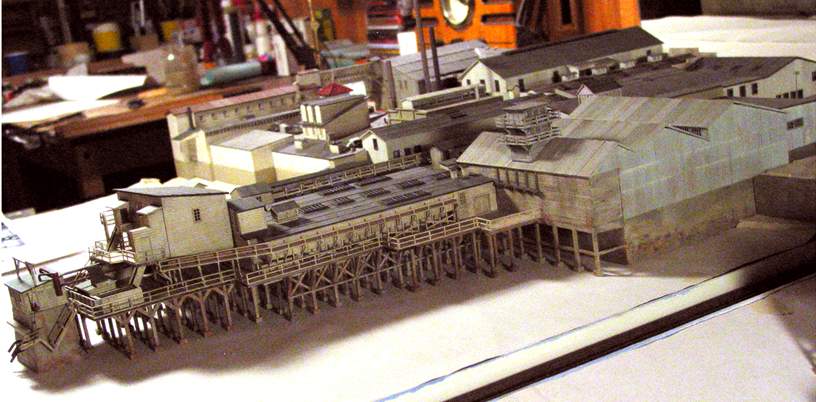 View 2
View 3
JUST IN! Photos of Bill Johnk's Cannery Row model project
for the Museum of California.
Cannery Row had a chance to acquire this magnificant project but couldn't muster the
backing to accomplish it. Instead, it's on it way to Oakland's "Museum of California"— an
excellent but distant home for this fabulous, incredibly accurate scale model of the mid-1940s
Hovden Cannery. More information to follow, but here's a look at Bill's progress.
IT'S FIRST PUBLIC EXHIBIT (STILL IN CONSTRUCTION) AT THE CANNERY ROW FOUNDATION
"GREAT CANNERY ROW REUNI
ON OF 2005."
Please Note:
The exhibit has been made possible by a co-sponsorship donation
by the Sprit of Monterey Wax Museum!

(09/22/05)
If you or your company would like to co-sponsor this exhibit at the Reunion, please contact:
Michael K. Hemp • (831) 659-2112 •
mkhemp@thehistorycompany.com
For real true-believer types
, here's a website Bill sent along that accesses the Monterey Bay Aquarium
historical documentation requirement for its development. A lot of great new and deatiled info on the
sardine industry, its mechanization, and its archival record. A truly fabulous resource for historical
research and documentation of the Old Row's flagship cannery, the Hovden.
Bill has provided this amazing Internet
photo resource for the old Hovden
:
You can thank Bill Johnk, Cannery Row Foundation board member, and project creator, for this
priceless look at the Old Row, now in it's second decade of development.
wajohnk@aol.com
••••••••••
PAST TENSE:
City of Monterey seeking to preserve the Wing Chong Market and
(Kalisa's) La Ida Cafe.
Historic preservation bond money is becoming available from the State of
California, specifically directed for historic acquistions such as the venerable Wing Chong and La Ida Cafe
of Steinbeck's 1945 "Cannery Row" fame. The process is highly comptetive against other state-wide projects
but it is hoped that the muliti-culutral industrial history of Cannery Row, with its world-famous Steinbeck
literary legacy, will secure the several million dollars necessary to acquire these icons of Monterey history and
Steinbeck literature. The CRF has been instrumental in the progress of this project.
CRF hosts California Writers at Ed Rickletts' PBL
On Sunday, August 29th, CRF Historian, Michael Hemp, will host writers from the East of Eden Writers
Conference (held in Salinas by the California Writers Club) at Ed Ricketts' Pacific Biological Laboratories,
800 Cannery Row. Tours of the Lab and the "Steinbeck Neighborhood" of Cannery Row gives writers the
real material and factual basis for writing about Cannery Row, where bad journalism passed for history for
decades after Steinbeck's classic (but barely fictional) account of life in the neighborhood surrounding Ed
Ricketts lab.
John Steinbeck Birthday Celebrated on Cannery Row
The Cannery Row Foundation's 2004 celebration of John Seinbeck's Birthday featured hourly tours of Edward
F. Ricketts Pacific Biological Laboratories—or "Doc's Lab" as it is widely referred to. These popular CRF docent
hosted tours are virtually the only public opportunities all year to get inside the famous Cannery Row landmark
made famous by Ed Ricketts and John Steinbeck. Herb Behrens, stalwart of the CRF staff, and historian Michael
Hemp conducted the tours which ran on the hour from 10:00 a.m. until the last tour at 4:00 p.m. The tours, as
usual, were very well attended by the Ricketts and Steinbeck fans from all over the Monterey Peninsula and far
beyond.
The evening fare was, as usual, hosted by the "Queen of Cannery Row"—Kalsia Moore—at her La Ida Cafe
(the same location in "Cannery Row" but now truly a cafe, not the bordello John Seinbeck made famous. Cannery
Row historian Michael Hemp presented a slide-lecture of old Ocean View Avenue using photos from the renowned
Pat Hathaway Collection of California Views and began the conversational phase of Kalisa's annual tribute to
John. The La Ida soon roared to the conversations of the crowded upstairs party room, the soundof flute and
guitar from the entertainment, and yes, bellydancing. Another great time was had by the astute Ricketts and
Steinbeck and Kalisa fans who make this annual party a "must."
Passing of a great friend of Cannery Row
Sadly, the highly honored Cannery Row photographer, Robert Lewis—one of the CRF's most treasured
personalities—passed away in Annapolis, Maryland, on February 23rd. The young Robert Lewis, living upstairs
in the former madam's quarters of the bordello in the Marina Apartments (across from the Ocean View Hotel
—now the Spindrift Inn—and known for decades for it's false claim as "The Bear Flag Building") took over 600
black and white photographs of Ocean View Avenue in 1957 and 1958. The result is a legacy of images of Cannery
Row at its nadir—at "rock bottom."
The History Company and Robert Lewis created the annual gallery exhibit at the Monterey Maritime Museum,
which was on exhibit from December 2000 through March 2001. Photos chosen by an exclusive jury totaled 109
large-format 11 X 14 or 16 X 20 mounted black and white photos: the largest juried one-man exhibit in Monterey
art history. The University of California Monterey Bay created a website to present student oral histories derived
from people identified in Lewis' photos. The mounted exhibit photos were donated to the Cannery Row Foundation
to exhibit Lewis' crucial mid-fifies view of "America's Most Famous Street." No other collection rivals this one,
composed of Ocean View Avenue's people and places at a time when no one expected Cannery Row to rise from its
ashes to become the major destination on California's Central Coast. The poignant black and whites have been
compared to those of Dorothea Lang's of the Oakie migration made famous by John Seinbeck.
The Cannery Row Company generously proivided vacant lease space for exhibit of the portion of the
Lewis Collecton donated to the Cannery Row Foundation by Robert Lewis and Michael Hemp.
Robert genuinely loved Cannery Row and was proud to have had a part in its history. His record of the Row
in his day has enriched us all. A "small collection" of two dozen of Robert Lewis photos from The History Company
Collection can be viewed on the walls inside the Starbucks Coffee located at 711 Cannery Row—in the warehouse
of the Monterey Canning Company at Cannery Row and Prescott Avenue.
Samples of
this exhibit
are on this website.
Robert will be missed around the La Ida Cafe and by his Cannery Row friends. His photos will one day be
published by The History Company—a project pending for some time before his untimely death from his chemo
treatment for an improving struggle with cancer. Be sure to see his photos when you're on Cannery Row.
The Queen's Plea
Kalsia Moore, the "Queen of Cannery Row"—and President of the Cannery Row Foundation Board of
Directors—has made a public plea for help in saving the La Ida Cafe (where she has done business for 47 years!)
and the famous Wing Chong Market (also of John Seinbeck's "Cannery Row"). Their acquistion and preservation
by the City of Monterey is now being explored, much like the City's ownership of "Doc's Lab"—the Pacific
Biological laboratories of Ed Ricketts.
The Queen is not concerned about her own survival but that of the last two remaining icons of the real
character of John Steinbeck's Cannery Row. Meetings are now underway to hopefully result in the acquisition
of these treasured landmarks in Cannery Row history and John Seinbeck's world-famous fiction and their
preservation into the future as "living museums" of the Old Row, accessable to the public.
Contact the Cannery Row Foundation at info@canneryrow.org or the City of Monterey at
suggest@ci.monterey.ca.us to help us in this crucial cause.
Home