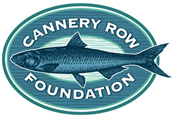 Please Donate
to Keep Cannery Row History Alive!
The mission of the Cannery Row Foundation
is to capture the history of Cannery Row
and to document and promote its present and future influence.
YOU can be part of this vital effort by supporting the historical, literary,
educational activities and programs of the non-profit Cannery Row Foundation.
Some areas of needed support are:
Assisting with airfare and costs for the nationally known scholars
and researchers who participate in the annual Cannery Row symposium.
Funds for a new website, to be a renowned source for information
on Ed Rickets, Cannery Row, John Steinbeck and all the related research
Help with expenses associated with organizing our Ed's Lab Tours,
CANNERY ROW SYMPOSIUMS, and "Christmas in the Adobes"
Ypou may make your tax-deductible donation by
PayPal secure credit card processing:

or mail your donation check to: